Challenges faced by Women with disabilities in the informal sector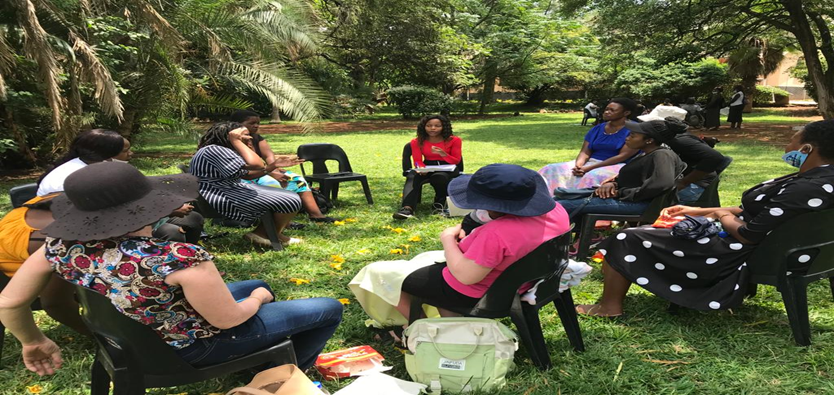 By Tatenda Machikiti
Women with disabilities (WWDs) face different challenges in the informal sector as they are living in societies with negative perceptions. Communities generally think that having a disability means one cannot engage in formal and informal activities to make profit as other people in the sector. Some of the challenges they face include, harassments, inadequate physical infrastructure, lack of social protection, limited access to information and knowledge to mention but a few.
Women in the informal economy are often subjected to verbal, physical and sexual harassment by officials, the Police, clients, service providers and fellow male informal workers. There are alleged reports of women who have been asked to perform sexual acts to ensure that they do not lose their products to the local authorities. Within the locality they work in, some women noted that they had to move, as their male counterparts were taking over their working space and harassing them. Victims of harassment find it difficult to report cases or seek recourse as they are already regarded as "illegal operators" by both the local authorities and police. Furthermore, the stringent formal requirements for getting licenses and designated official workspaces expose women to verbal and sexual harassment.
A number of unreported sexual harassment crimes and abuses are committed against women by other co-players as well as law enforcement agents. Some reported that law enforcement agents demand bribes in cash and in kind from them when caught during both official and unofficial raids. These challenges can be connected to patriarchy and how it manifests. Their fellow male counterparts at times resort to name calling and shaming if they get more customers so that they can give up and the men will take over the territory. At times there is also a battle for places that are deemed to have high customers, males will usually dominate these spaces due to aggression.
The other challenge faced by older women with disabilities lack social protection mechanisms in the informal sector which are necessary as they get older. For instance, older women with disabilities who are still engaged in the buying and selling businesses because they do not have an alternative way to provide a livelihood for their families. They are not participating in key decision making processes to shape and influence decisions that affect them. Social security deficits abound in the informal economy due to exclusion from formal national social security schemes and this affects women with disabilities more.
Women with disabilities also have limited access to credit and financing. Without access to credit, many women with disabilities end up trapped in low income generating activities in the informal economy that have easy entry requirements. They are not able to take advantage of other business financing models due to lack of collateral. There is need to provide financing mechanisms that cater for the needs of their small business to ensure financial inclusion.
Women with disabilities in the informal sector require more support to boost their businesses and open for the new opportunities through training and exchange visits for exposure. The inclusion of women with disabilities in policy making plays a critical role in ensuring that their needs are considered and catered for. Access to finance for women with disabilities needs to be made flexible and efforts should be made to move towards value addition and spaces where there are investors for business growth.
Conducting Disability Management trainings in Schools
By Mirirai Nyabvure
Deaf Zimbabwe Trust has been conducting disability management trainings in schools with resource units in Mabvuku Tafara District to strengthen and improve inclusive education in schools.
This is being done in line with the Education Act, Section 68B Subsection 3 which reads: "For the purpose of fees approval, the Secretary shall require every registered school to submit a plan highlighting how the school shall advance the rights of pupils with disabilities." This is being done through increasing awareness on disability among teachers in schools with resource units and equipping teachers with skills to promote inclusion of learners with disabilities in school activities. Disability audits are also being conducted within the schools to ensure that the school authorities and teachers see the relevance of Schools Disability Plans in advancing the rights of learners with disabilities.
The teacher attitudes to disability inclusion can be barriers to inclusion in a school. DZT also discovered that teachers in the schools cannot relate with the learners with disabilities and seem to always rely on the special class teachers even when interacting with the learners with disabilities. Teachers also showed that they had little information with regards to the Resource Units and special classes at the school. Some of the teachers within the schools are of the opinion that learners with disabilities should not be focused on as they cannot achieve good academic grades.
The teachers lamented of the lack of teaching aids and equipment within the schools. They highlighted that this challenge makes it difficult for them to effectively teach the learners with disabilities. DZT has noted that the majority of the school-built environment is inaccessible. School buildings have steps and this hinders persons /learners with physical disabilities from accessing classroom. The teachers also identified poor quality training as a challenge in promoting inclusion at the school, they added that they do not receive any form of training on disability inclusion in colleges and this makes them unqualified to teach learners with disabilities and push the agenda of inclusion.
The disability management trainings exposed that some parents are not seriously engaged with the education of learners with disabilities. They do not know and understand the crucial role they play ensuring equal access to education. Teachers feel parents do not understand that their children with disabilities, if nurtured in the right way and with the right support can achieve sustainable futures.
The curriculum needs to be modified to be inclusive. The teaching methods for learners with disabilities are not provided for and this makes it difficult to tailor make them for learners with disabilities.
For the curriculum to work for learners with disabilities adaptation should happen in learning programmes, lesson plans, teaching, learning and assessment resources, learning environment as well as tests and examinations. This will give the learners with disabilities equal opportunities in learning and instruction.
Capacitation of teachers through on-going teacher training curriculum reviews with a view to induct all teachers on inclusive education was also suggested. Attendees cited that they lack the appropriate know-how on disability education and such trainings would help them deliver better for the betterment of the lives of learners with disabilities.
Teachers were of the opinion that learners should be conscientized on disability issues through awareness campaigns at school level. They suggested that this could be done through peer tutoring between the students to promote positive interactions. Adaptation of the school environment, including building more classroom blocks was also proposed. Teachers suggested that government should build more schools in Mabvuku –Tafara to ease pressure on all school because all schools in the area are operating above their capacity.
The disability management trainings are increasing awareness on disability, the need for education, participation and inclusion of persons with disabilities in the school system. With regards to lessons learnt as a result of these trainings:
There is need for inter relations among the main line ministries i.e. MoPSE, Social development and Ministry of Health to deal with various issues that emerge in proving education to learners with disabilities.
It is important for school heads to disseminate policy circulars to the generality of teachers.
Teachers' attitudes are a serious barrier to inclusion in school.
COVID-19 has brought about changes that are affecting inclusion in schools.
Political Participation of women with disabilities in Zimbabwe
By Tinotenda Chikunya
The right to vote and to be elected – is a fundamental right for all yet women with disabilities still represent a small minority of elected representatives and political decision-makers in Zimbabwe. Data on political participation of women with disabilities is scarce highlighting the low participation of women with disabilities in electoral and political processes
According to statistics, Zimbabwe's female population was estimated to be 7.77 million by the year 2020 and an estimated one in five women has a disability. Discrimination against women with disabilities in political participation and physical, attitudinal and structural barriers in electoral processes have resulted in women with disabilities failing to realise the rights stated in The UN Convention on the Rights of Persons with Disabilities (CRPD)'s Article 29 , (participation of persons with disabilities in political and public sphere).

Women with disabilities face many challenges and barriers which limit their
visibility and participation and representation at all levels of political electoral spaces. A position paper developed by Deaf Zimbabwe Trust revealed that lack of access to information and national registration documents documentation, lack of access to quality education for persons with disabilities, electoral violence and inaccessible infrastructure impede the full participation of women with disabilities in political and electoral processes.

Equal political participation and representation of women with disabilities is key in achieving the sustainable development goals. To achieve equal access, representation and participation of women with disabilities in political and electoral processes in Zimbabwe, DZT calls for:
Disaggregate data on disability
Ensure public building, polling stations, Voter registration centres, accreditation centres and ZEC District and provincial offices are easily accessible to persons with disabilities
Political and Electoral Information should be disseminated in accessible formats including Sign Language, easy to read formats and Braille
Provision of leadership training, capacity building and support for women with disabilities
Easy access to National Identity documents
Political parties should actively seek to include women with disabilities among their members and ensure their voices are heard.